Bio-Plastics Market: Global Industry Analysis and Opportunity Assessment 2014 to 2020

Bioplastics are those plastic materials that are manufactured by using natural resources. There are two categories of these plastics available in the market — biodegrable bioplastics and non-biodegradable bioplastics. The report covers both the categories for market study.
On the basis of material type, the report covers market analysis of bio-based polyethylene terephthalate (Bio-PET), bio-based polyethylene (Bio-PE), bio-based polyamides (Bio-PA), bio-based poly lactic acid and its blends, starch blends and polyhydroxyalkanoate. Applications of bioplastics covered in the report includes bottle manufacturing, other packaging, food service disposables, agriculture/horticulture, consumer products and automotive applications.
The global bioplastics market is projected to grow approximately six times its value from US$ 7.5 billion in 2013 to US$ 43.8 billion in 2020 at an estimated CAGR of 28.8% between 2014 and 2020.
Global Bioplastics Market: Drivers and Trends
Demand for bioplastics is increasing since past decade due to growing awareness concerning environmental conservation, use of bio-based or natural resources for manufacturing materials and formulation of various regulations across countries for effective use of natural resources and waste management.
Analysis on Bioplastics Market
In the year 2012, the global bioplastics production capacity was approximately 1.3 million tonnes of which Asia Pacific region accounted for largest share. By 2020, Asia Pacific region is projected to be the largest consumer of bioplastics globally followed by North America and Europe.  Eco-friendly initiatives by corporates and abundant availability of raw materials for manufacturing bioplastics are prominent factors driving growth in Asia Pacific bioplastics market.
In terms of value, bioplastics markets in matured economies are collectively projected to expand at a CAGR of 26.0% during the forecast period while emerging economies are collectively projected to increase at a CAGR of 31.7% by 2020, which is 1.2 times more than that of matured economies.
Bioplastics Market Segmentation
By material type, bio-PET accounted for largest share by value in 2013 followed by biodegradable polyester, starch blends, bio-PE and other materials. Bio-PET market size is projected to grow by approximately seven times from 2013 to 2020, thus representing a CAGR of 31.4% during the forecast period. Bio-PET is projected to represent high value and high growth market segment during the forecast period whereas starch blends and bio-based PLA are projected to be low value and low growth bioplastic market segments during the forecast period. Bio-PET and other bioplastics are collectively projected to exhibit a value CAGR of 33.6% over the forecast period while all other bioplastic materials including bio-PA, starch blends, PHA, PLA and bio-PE are collectively projected to grow at CAGR of 14.3% during the forecast period.
By application type, bottles manufacturing accounted for largest share in 2013 followed by packaging, automotive applications, food service disposables and consumer products. Bottles manufacturing application segment is projected to increase its market share by approximately 1.3 times from 2014 to 2020. Packaging and bottle manufacturing segment are projected to hold dominant share during the forecast period while bottle manufacturing segment is projected to grow above average growth rate over the forecast period. Both these high value application segments are collectively projected to grow at CAGR of 29.8% while all other application segments are collectively projected to grow at CAGR of 26.5% over the forecast period.
Global Bioplastics Market Value, By Material Type, 2013–2020 (US$ Mn.)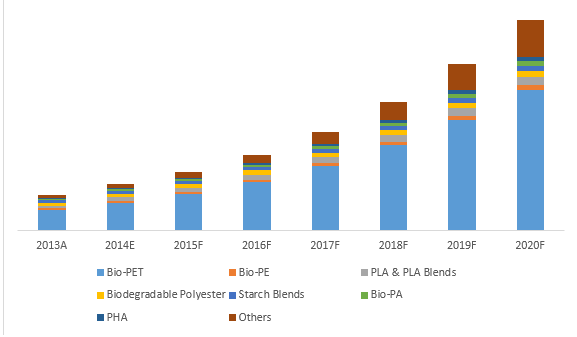 Source: FMI, 2014
Some of the market participants active in the global bioplastics market featured in the report include BASF SE, NatureWorks LLC, Toray Industries Inc., Evonik Industries, E. I. du Pont de Nemours and Company, DSM N.V., Arkema, Techno Polymer Co. Ltd. and RTP Company.
.